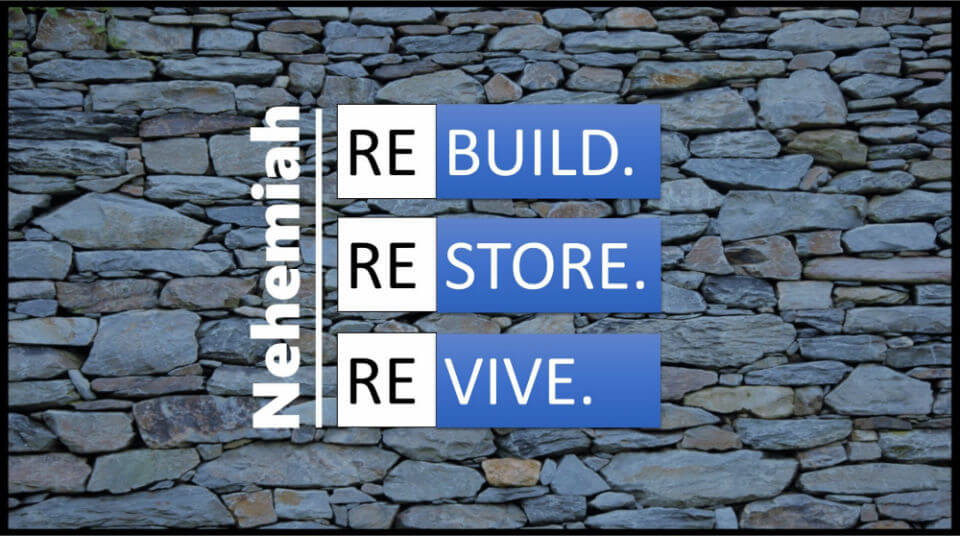 The vision of NBC is centered on our members living out the 3 Rs that reflect the work of the Old Testament leader, Nehemiah.
From the Old Testament, we learn that Nehemiah was a wall builder, who was responsible for rebuilding the wall around Jerusalem that was destroyed by the Babylonian ruler, Nebuchadnezzar. He accomplished this amazing task in just 52 days.
Nehemiah was more than just a wall builder, he was a life builder. Nehemiah had burden and unquenchable desire to see the Jewish people build their lives God's way.
The remnant of Jews living in Jerusalem were a people who lived everyday with broken lives. They had no livelihood, no security, and no worship. Nehemiah along with his contemporary, Ezra; sought to rebuild the lives of the inhabitants of Jerusalem on God's word. It doesn't take a genius to see the moral crumbling of our society today because people are no longer building their lives on the foundation of God's Word.Psalm 127:1 says, "Unless the Lord builds the house, they labor in vain who build it." At NBC, we have a burden to come alongside families and help them to lay a biblical foundation that will yield strong families who desire to honor God and persevere through life's difficult moments.
The prominent missing element in the lives of the people Nehemiah ministered to was worship. For approximately 70 years, worship of Yahweh was absent. Nehemiah and Ezra worked diligently to restore the people's love, passion, and desire for the God of Israel. The Bible clearly states that sin separates us from God. The sin of the Jews in Nehemiah's day was their forgetfulness and indifference to their relationship with God. Nehemiah was a catalyst whom God used to inspire the people to return their hearts to God. At NBC, we are a church who has a strong desire to see the people of Raleigh County have their hearts restored to God.  Our desire for our neighbors is illustrated in 1 John 1:3-4 "that which we have seen and heard we declare to you, that you also may have fellowship with us; and our fellowship is with the Father and with His Son Jesus Christ. And these things we write to you that your joy may be full."
The prominent missing element in the lives of the people Nehemiah ministered to was worship. For approximately 70 years, worship of Yahweh was absent. Nehemiah and Ezra worked diligently to restore the people's love, passion, and desire for the God of Israel. The Bible clearly states that sin separates us from God. The sin of the Jews in Nehemiah's day was their forgetfulness and indifference to their relationship with God. Nehemiah was a catalyst whom God used to inspire the people to return their hearts to God. At NBC, we are a church who has a strong desire to see the people of Raleigh County have their hearts restored to God.  Our desire for our neighbors is illustrated in 1 John 1:3-4 "that which we have seen and heard we declare to you, that you also may have fellowship with us; and our fellowship is with the Father and with His Son Jesus Christ. And these things we write to you that your joy may be full."
Wednesday SErvice
7 PM  - 8:30 PM
Sunday Services
11 AM - 12:30 pM
Mail
nehemiahbaptistchurch@gmail.com
Address
Nehemiah Baptist Church
136 Derek Ln,
Cool Ridge, WV 25825