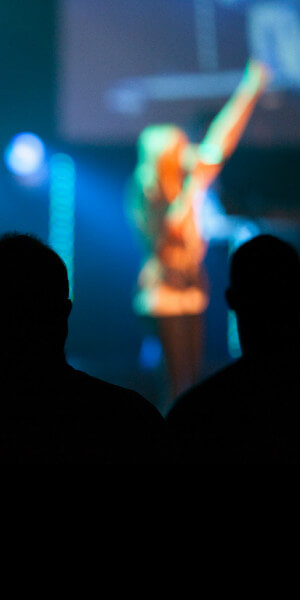 At Nehemiah Baptist Church expect to find a warm friendly community, and a casual environment focusing on growing in our walk with Christ!
We understand that finding a Church can be a scary thing. It's intimidating to walk into a building full of strange faces and activities. There are so many things that we can worry about in our lives that Church shouldn't be one of them,  we strive to have a 'come as you are' attitude to help eliminate that worry. We want you to know what to expect when you get here.
Sunday Mornings:
Our Sunday services begin with Sunday School classes at 10 a.m. During this hour we focus on the educational aspect of learning more about what the Bible says and teaches us. Beginning at 11 a.m. is our main service, which will begin with some opening announcements and then time worshipping the Lord through a blend of contemporary and traditional music.
Our Pastor will share an encouraging and challenging message based directly on the Word of God. During this time we offer a seperate teaching time or some tools to help with focusing on the message for your children in elementery school, as well as, a nursery for young ones!
After the teaching we will close the service with another time of worship through music and an invitational time. Our Sunday services are approximately an hour long each.
The Next Steps:
As you seek to grow and mature in Christ we offer several ways to help and encourage you to do so.
• Finding Community: Our connect groups are places where we can learn, grow, have fun, and share our lives together.
• Finding ways to serve: We want to help you find ways to make a difference, whether its through going on a missions trip or maybe even just something simple like helping clean or anything in between!
• Finding ways to grow: We can offer several lessons or suggestions of ways you can grow in your personal life through personal study.
Young Ones:
For your young children we have a special time on Wednesday nights where they can learn about the God that created them in exciting and unique ways. This complements the Sunday morning lessons that they also may attend!
If your children are a little older we have a student ministry group that meets on Wednesday nights as well. Its a time just for the students from 6-12 grade to learn and grow through lessons and activities. There is also a teen Sunday School every Sunday at 10 am.
 Your whole Family is invited!
Wednesday SErvice
7 PM  - 8:30 PM
Sunday Services
11 AM - 12:30 pM
Mail
nehemiahbaptistchurch@gmail.com
Address
Nehemiah Baptist Church
136 Derek Ln,
Cool Ridge, WV 25825